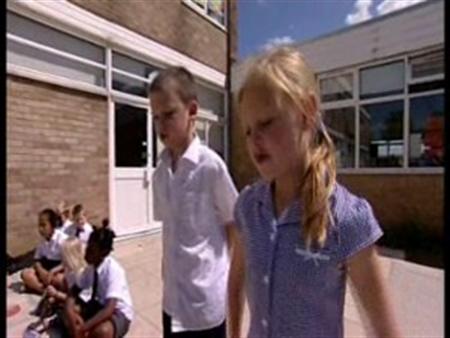 A playground hopscotch game to improve KS1/KS2 writing skills As part of their Talk to Write programme, Pegasus Primary in Oxford has been focussing on storytelling, story mapping and verbalising before their pupils sit down to write. According to Headteacher Gill Hudson this has lead to huge improvements in writing.
Several times a year Pegasus School devotes a whole day to storytelling. On this occasion story teller Chris Smith from the Storytelling Museum in Oxford visits Class 2 to tell them a story using techniques developed by writer and former teacher Pie Corbitt.
The children are initially required to hear the story, and then to story map it by drawing pictures in sequence to represent key plot turning moments. They then retell the story in pairs , each child physically taking a step at key points in the story and verbalising the plot. Class 2 teacher Nannette Stormont then helps them with key words. Finally the pupils either write an accurate rendition of the story or add their own imaginative embellishments.