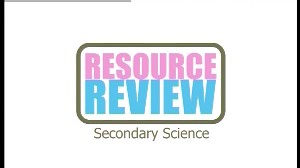 The panel look at Air Engine Racer Kit, Ferro Fluid and more Looking for the latest publication or an innovative CD-Rom to teach your subject? Each week on Resource Review, experts recommend products which teachers trial in the classroom for discussion by our panel.
Nathan Goodman, Head of Physics at South Hunsley School in East Yorkshire, chooses three resources for teaching physics at secondary level:
– Air Engine Racer Kit
– Ferro Fluid
– Badger Key Stage 3 Science Starters and Level Assessed Tasks.
At John Cabot City Technology College in Bristol Head of Science Ros Strickland uses the Air Engine Racer Kit to teach principles of momentum. Meanwhile, colleague Mark Allen uses Ferro Fluid to teach the notion of magnetism to his science class.
Nathan joins presenter Hermione Cockburn to discuss the resources, with panellists Adrian Fenton, Curriculum Support Manager for the Association of Science Education, and Karin Parker, Head of Science at The Grange School in south Gloucestershire.