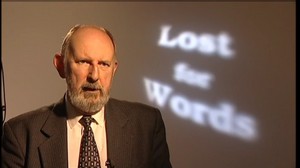 Hear the debate over why MFL learner numbers are falling John Dunford of the Association of School and College Leaders says the number of students sitting language GCSE and A Level is in freefall since the government made MFL non-compulsory.
The CBI says business leaders are alarmed by the shortage of school leavers and graduates with language skills.
Education Minister Jacqui Smith answers her critics and insists that the government has shown its commitment to MFL by setting new targets that will see at least fifty per cent of 14 to 16 year olds receiving some form of language teaching.
Primary teachers say they're scared by the monumental task now facing them with the Primary Languages Strategy. Many fear they will not be ready to deliver the one hour of language lessons a week by the end of the decade.
The programme features research carried out at the University of Bristol, which reveals that many primary children with language skills are obliged to start from scratch once reaching secondary school.