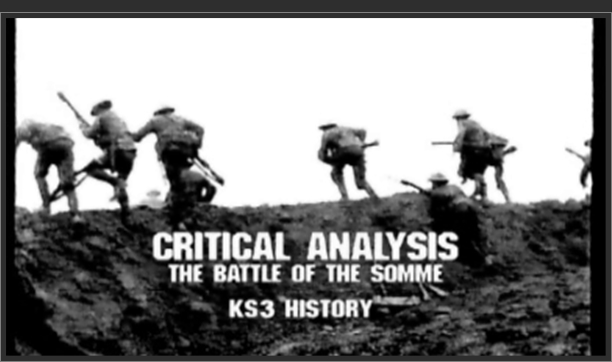 Year 9 pupils use inference skills to examine a WW1 film Year 9 pupils hone their critical analysis skills by examining the 1916 film 'The Battle of the Somme'. Part of a World War One depth study taught by Dale Banham, this lesson focuses on the higher order skill of inference.
Dale takes pupils through a detailed look at the war office film 'The Battle of the Somme', looking first for obvious clues to the messages behind the film and then observing the more subtle inferences.
He gradually takes pupils deeper and deeper into the messages, language and images of the film, finishing with a shot-by-shot look at the scene where soldiers 'go over the top'.
Throughout the programme, Dale comments on the thinking behind his approach and alludes to some of the potential pitfalls.
He explains how the depth study both engages pupils in terms of its film-studies approach but also develops the critical skills which are required later on in Year 9 as well as at GCSE level.