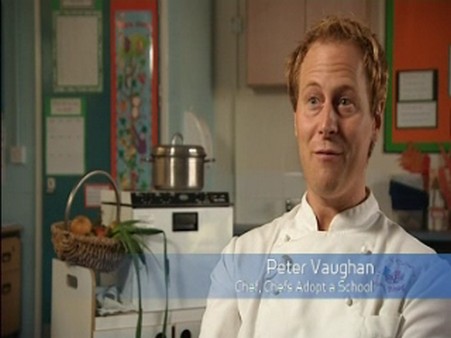 Chef Peter Vaughan is on a mission to get children involved in growing and cooking good food that they can share with their friends. He visits Rowde Primary School and their wonderful vegetable garden run by chair of governors Amanda Housby. His challenge is to help the children make a tasty soup using only the vegetables that they have grown and picked that morning.
Peter is joined by teacher Mandy Wood in her Year 5 class and sets up his equipment, including chopping boards, knives and a portable cooker. He has lots of tips on safety for this age group and soon they are confidently preparing the soup and mixing the dough for the soda bread.
As the last ingredients go into the pot, headteacher David Ball presents Peter with his prize four-pound onion to use and Peter decorates the soda bread with giant onion rings! Later the soup and bread are judged a great success and as Peter remarks, it's what Gordon Ramsay would call a good service.