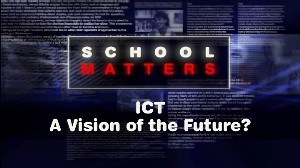 An education group explores some schools' success in ICT learning The Specialist Schools and Academies Trust 2005 bus tour visits some of the most innovative examples of ICT use in schools in the country.
This programme is a unique opportunity to find out how these award-winning schools are harnessing ICT to help transform learning and raise educational standards. Make up your own mind as to whether their vision really is the future for ICT use in schools.
Schools visited include an inner city school in Birmingham, Robin Hood Primary, where pupils demonstrate their impressive abilities in animation and film-making, and Djanogly Academy, one of Europe's most futuristic schools, here seen showing off its impressive collection of wireless technology and tablet PCs used in place of interactive whiteboards. The other schools featured are Wyndcliffe Primary School, Birmingham; Crosshill Special School, Blackburn; Heybridge High School, Worcestershire; and Parrs Wood High School, Manchester.